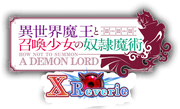 Isekai Maō to Shōkan Shōjo no Dorei Majutsu: X Reverie
(lit.
Another world Demon King and Summoner Girl's Slave Magic: Cross Reverie
) is a mobile app game based on the
series
. It launched on August 28, 2018.
Summary
The slave magic of different world demon and summoned girl - light novel by Yuki Murasaki. Takazaki Takahiro is in charge of illustration. Published from December 2014 at Kodansha Ranobeko Bunko. The latest volume is Volume 10, and the circulation count has exceeded the cumulative total of 1.4 million copies in the series. Nikoniko Still "Commercialized version by Naoko Fukuda is also being delivered at" Sirius on Wednesday ". In MMORPG Cross Revelation Takumi Sakamoto (Sakamoto Takuma) boasted the overwhelming strength to be called "demon king" from other players. One day, he is summoned to a different world in the form of a game. There were two girls who insisted that "I am the summoner". Takuma can make slave magic for summoning beasts from them - but unique ability "magical reflex" activation! Girls who turned into slaves ......! Demon King (acting) begins with absolute strength, a world adventurer, opens!
Links