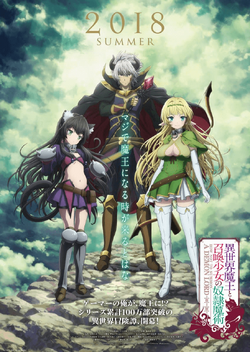 Isekai Maō to Shōkan Shōjo no Dorei Majutsu (異世界魔王と召喚少女の奴隷魔術?, lit. "How Not to Summon a Demon Lord"), the series premiered on July 5, 2018, and will be broadcast on AT-X, BS Fuji, Tokyo MX, and Sun TV. Crunchyroll will simulcast the series worldwide outside of Asia, and Funimation will simuldub it. The series' opening theme, "DeCIDE", is performed by the unit SUMMONARS 2+, a group composed of voice actresses Azumi Waki, Yū Serizawa, Yumi Hara, Rumi Okubo, and Emiri Katō, and the ending theme, "Saiaku no Hi demo Anata ga Suki." (最悪な日でもあなたが好き。, "I Like You Even on the Worst Day."), is performed by Serizawa and produced by HoneyWorks.
Synopsis
Takuma Sakamoto is an ordinary human who is mysteriously transported to the world of his favorite MMORPG, Cross Reverie, with the appearance of his own character in the game, the Demon Lord Diablo. The two young girls who summoned him, the Pantherian Rem and the Elf Shera, attempt to use a spell to make Takuma their servant, but the spell rebounds, and both end up with magic collars stuck on their necks, thus becoming his slaves instead. With a serious case of social anxiety, Takuma decides to act like his character while interacting with others, and makes use of his high stats and vast knowledge of Cross Reverie's lore to survive in his new environment, traveling along with Rem and Shera to look for a way to remove their slave collars while helping them with their own, personal issues that led them to summon him in the first place.
Episode Covers
Episode List
List of Blu-ray Releases
#
Title
Airdate
Japanese
English
1
The Demon Lord Act
July 5, 2018
July 25, 2018
2
The Strongest Newcomer
July 12, 2018
August 1, 2018
3
Fallen Assault
July 19, 2018
August 8, 2018
4
Point-Blank War Dance
July 26, 2018
August 15, 2018
5
Imperial Knight
August 2, 2018
August 22, 2018
6
Slave Market
August 9, 2018
August 29, 2018
7
Change of Heart
August 16, 2018
September 5, 2018
8
Hero's Charge
August 23, 2018
September 12, 2018
9
Holy Knight Tale
August 30, 2018
September 19, 2018
10
The Demon Lord's Resurrection
September 6, 2018
September 26, 2018
11
The Young Girl Awakens
September 13, 2018
October 3, 2018
12
Battle for Legitimacy
September 20, 2018
October 10, 2018
Characters
Main
Reoccurring
Minor
Character
Voice actor
1st episode
Japanese
English
Galluk
Yasuaki Takumi
Cris Gardner
Episode 1
Celsior
Tatsuyuki Kobayashi
Clay Wheeler
Episode 2
Boris Marcus
Ueki Shinei
Matt Shipman
Episode 3
Gregore
Toru Sakurai
Episode 3
Medios
Sayaka Ohara
Morgan Garrett
Episode 6
Saddler
Daisuke Namikawa
Anthony Bowling
Episode 9
Eulerex
Kenji Kitamura
Episode 10
Delouche Xandros
Hijiri Tajiri
Episode 10
PV
Staff
Directed by Yūta Murano
Written by Kazuyuki Fudeyasu
Animations by Ajia-do Animation Works
Character designs by Shizue Kaneko
Chief animation director: Yuki Nishioka
Monster designer and action animation director: Yuki Miyamoto
Backgrounds by Kusanagi
Color key artist: Natsuko Otsuka
Photography director: Teppei Satō
Sound director: Satoshi Motoyama
Trivia
The English voice actors of Rem, Alicia, Shera, Sylvie and Diablo also voice Kanna Kamui, Riko Saikawa, Tohru, Miss Kobayashi and Tatsuta (the butcher; Eric Vale also did other minor voice roles) in Miss Kobayashi's Dragon Maid.

The English voice actors of Krebskulm, Saddler, Celestine, and Medios also have minor voice roles in Miss Kobayashi's Dragon Maid.
Links